Staffing Solutions
Youngbrook Recruitment provide Labour Hire, Permanent Staffing and Temporary Staffing Solutions for Queensland businesses throughout Brisbane, North to Mackay, South to Victoria, and West to the Surat Basin.
Youngbrook Recruitment has become a trusted business partner, providing excellent staffing solutions to Queensland and Australian businesses of all sizes since 2007. We are regularly praised as "the Best Recruitment Agency in Brisbane." Our team are committed to providing value for recruitment spend, which demonstrates our serious commitment to deliver a strong ROI for your company, while offering unrivalled terms and guarantees.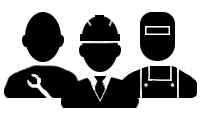 Labour Hire
Cover emergency employee absences, fill the skills shortage gap or an increased workload.
Areas We Recruit
Youngbrook Recruitment specialise in staffing solutions for contract staff, part-time staff and full-time staff for:
Trades: Trade Assistant, Fitter, Manual Machinist, CNC Machinist, Boilermaker, First Class Welder/Inspector, Sheet Metal Worker, Diesel Mechanic, Form Worker.
Supply Chain: Procurement, Production, Warehousing, and Distribution.
Office Support: Receptionist, Office & Site Administrators, Data Processing, Personal Assistant, Executive Assistant, Records Management, Contract Administrator, Document Controller.
Contact Centre: Contact Centre Officer, Customer Service, Market Research, Survey Specialist, Mystery Shopping, Telemarketing, Team Leadership, CCM.
Accounting and Support: Accounts Payable, Accounts Receivable, Trust Accountant, Payroll, Credit Control, Assistant Accountant, Financial Accountant, Management Accountant.
Sales and Marketing: Internal Sales, Sales Representative/Consultant, Business Development Manager, Key Account Manager, Marketing Manager, Content Writer, Content Producer, Graphic Designer, Marketing Coordinator, Event Marketing, Channel Marketing, Public Relations.
Senior Appointments: QA/QC, State and Territory Manager, HSEC, GM, C-Suite Professional.
Aged Care: Industry Liaison Clinician, Care Worker, Lifestyle Assistant, Registered Nurse, Community Manager.
What Makes Our Staffing Solutions Different?
We have reversed the industry standards for our fee for service since inception.
We provide above industry replacement guarantee on the work we deliver to protect your recruitment spend, increase goodwill and strengthen relationships. The industry standard is three months. Whereas, Youngbrook Recruitment's standard recruitment guarantee is four months. Furthermore, we provide a guarantee of six months for middle management recruitment and twelve months guarantee for executive appointments.
You will have one point of contact who will understand your business intimately. As we expand, we roll this information internally across our business platform saving you time and money by not having to debrief new consultants on your business and its requirements.
On volume recruitment requirements we provide an on-site consultant to manage on-site services and liaise with process stakeholders and line managers.
We operate a quality endorsed business that has been independently certified to ISO 9001:2015 Standard and forward the benefits to our customers through our commitment to continual improvement.
We operate extended business hours to deliver on our promises and deliver on recruitment best practice. We interview on the weekends to build our customers' pools of talent. When our competitors are closed we are working to deliver results.
We make sure every person who works for us during the week gets paid on time for that work.
We provide flexibility in payment terms if required.
We complete placement and continual pool compliance on a monthly basis and no later than two days from the end of each month action every item that needs improvement.
We still have in place the original management team making Youngbrook Recruitment a stable and secure entity to deal with.
We are invested in ensuring that Youngbrook Recruitment delivers customer outcomes so if there is an issue and that outcome cannot be delivered we design, implement and monitor a solution that works.
We are transparent in our business dealings, we formalise our commitments and our hand-shake is our word.
We have secured the services from market leaders to deliver recruitment best practice.
WHY CHOOSE US
96.3% of all permanent recruitment placements remain engaged or promote within the company they are placed
Youngbrook Recruitment is a quality endorsed recruitment agency ISO 9001:2015
Our specialist focus means targeted results
Even our placements regularly become long-term clients!
Need Staff:
Do you have a job vacancy that you would like us to fill? Call 07 3399 6899 or fill out the form